Business Sweden
"It instantly stood out to me how different and unique this role was"
Text: Sara Schedin
Foto: Mark Traverso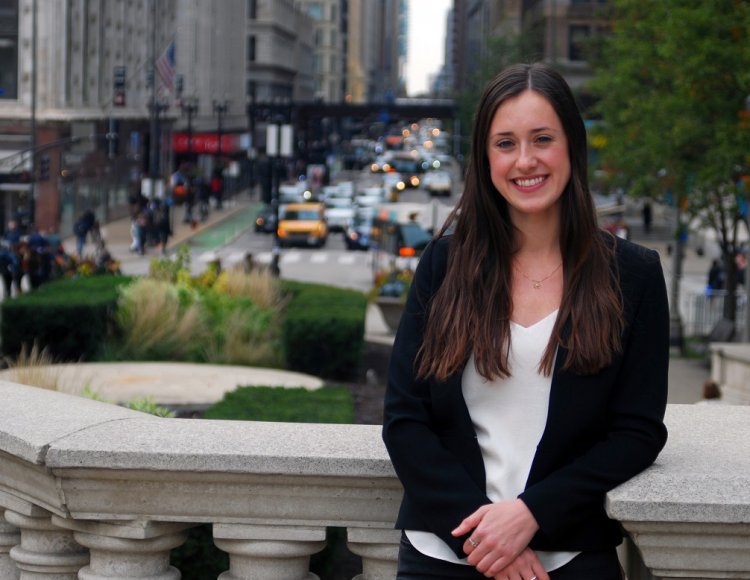 As a Consultant at Business Sweden's Chicago office, Allison Carroll works from high level to hands-on – helping Swedish companies grow their sales in the US.
Before working for Business Sweden Allison Carroll didn't have a connection to Sweden and had never visited the country. But when applying for jobs after graduating from university in 2017, she came across the position as an Associate at the organization's Chicago office – and it instantly stood out to her how unique and different it was to other roles that she was considering.  
– I was drawn to the international aspect of the role, as well as getting to know a new culture and country.  
Title: Consultant.
Education: BA in Environmental Science, University of Michigan, 2017. 
What is your favorite spot in Chicago? "I love to run so the running path along Lake Michigan is one of my favorite spots!"  
What kind of projects do you work on?
– At the moment I'm working on a consulting assignment where we are supporting a Swedish solution provider for the electrical grid, that wants to enter the US market. We are providing them with an overview of the US electricity market and are about to start to conduct outreach to potential customers. Given the complexity of the US electricity sector, it is a very informative assignment and a great learning experience.  
At Business Sweden you work from high level to hands-on, tell us more!
– Given our role as a semi-governmental organization we work with Swedish companies of all sizes – from very early on startups to large multinational corporations. Being able to work with different types of clients let us be both very strategical and high level, but we are also no strangers to rolling up our sleeves and getting the work done for our clients. As an example, last summer I had two ongoing projects– one where I was helping a Swedish corporation to develop and refine their public affairs strategy for two markets, and one where I helped a manufacturer of a disposable medical product to connect with American distributors, as well as packaging and shipping samples of their product. Even though the projects involved different levels of tasks and responsibilities, they were still equally important for the clients.  
"The job never stops being exciting and fresh"
What do you enjoy the most about working at Business Sweden?
– Since every project is a new learning experience, the job never stops being exciting and fresh. I also really enjoy getting to work with all my colleagues around the world and learning about the different projects that they are involved in. Something unique for Business Sweden is that even though we have offices in 46 different countries, we are still a tight-knit community where you know people by name and are not just a face in the crowd.  
Business Sweden hjälper svenska företag att öka sin globala försäljning och internationella företag investera och expandera i Sverige. För svenska företag gör vi det genom att korta tid till marknad, hitta nya intäktsströmmar och minska risk. För internationella företag gör vi det genom att hitta nya affärsmöjligheter, öka kapitalavkastningen och vara ett opartiskt stöd. Med nätverk på alla nivåer erbjuder vi strategisk rådgivning och handfast support. Business Sweden är representerade i hela Sverige och har kontor på över 50 av världens mest intressanta marknader. Business Sweden har cirka 500 medarbetare varav ca 400 arbetar i utlandet.
Läs mer:
www.business-sweden.se
Dela det här inlägget
Artiklar du kanske gillar: